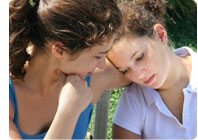 LEAP (Look to End Abuse Permanently) is an organization of health care providers and volunteers dedicated to ending intimate partner violence by establishing intimate partner violence screening, treatment, and prevention programs in the health care setting.
Read our LEAPletter for Winter 2012 (download PDF).
About this website

LEAP developed this website in response to many direct requests from health care providers. The advice on this website has been developed by LEAP through years of experience in training health care providers to address IPV in the health care setting. The opinions and advice on this website are meant only as suggestions. Health care providers should follow the laws governing medical practice in their state and consult with appropriate professional organizations regarding standards of practice. LEAP would greatly appreciate feedback and suggestions on how to improve this website. Click here to contact us.
LEAP is deeply grateful to the San Francisco Department of Public Health for the ongoing support of LEAP's work and to the Family Violence Prevention Fund for invaluable mentorship and support. LEAP thanks our fiscal sponsor, the San Francisco General Hospital Foundation for their support. LEAP also appreciates grant funding supplied by San Francisco Kaiser Permanente Community Benefits Grants Program and the California Pacific Medical Center Foundation.

LEAP's accomplishments:

LEAP Thanks...