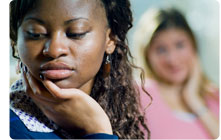 Safety Plan

These plans are low-literacy, gender-neutral safety plans created by LEAP for use with any person who is being victimized or threatened by another person. There are color and black and white tri-fold brochures listed first and, then, there are simpler to copy double sided plans without photographs. There is a version for use in any location that has blank fields in the areas for resource phone numbers as well as a version for San Francisco County that has phone numbers inserted. Go to our Safety Planning page.

Brochures for Pregnant Patients
Download copies of these brochures on pregnancy and IPV for each of your pregnant patients. The brochure helps patients understand the effects of IPV on pregnant women and their children and also list resources for victims of IPV.

Power and Control Wheels


Power and control wheels are teaching tools that can be used to educate patients and others about power and control issues in relationships.
Unhealthy Relationship Checklist
Developed by LEAP. May be used unaltered without permission as long as you credit LEAP (Look to End Abuse Permanently), c/o Maxine Hall Health Center, 1301 Pierce St., San Francisco, CA 94115 415-292-1305.

DV Survival Kit
This survival kit tells you what you can do if you are threatened or hit by your spouse or partner. It is a self help guide that explains your legal rights and how to get help from the legal system. This guide also contains ideas to help you put together a safety plan. Developed for New York, much of the content in the guide is applicable in other states.