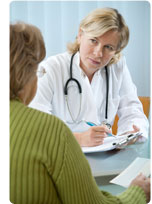 Providers often hesitate to inquire about IPV because they wonder, "What will I do if she/he says "yes?" In qualitative studies, victims and survivors of IPV describe their hopes that providers will inquire about IPV in a compassionate and non-judgmental manner. Victims and survivors most appreciate a provider's supportive manner.
Providers should, though, be able to either do basic assessment of the immediate safety of both the patient and the provider, the safety of any exposed children, and how the patient feels about the relationship. At a minimum, providers should be able to provide all victims and survivors with supportive messages, an offer of a hotline number, and follow up with appropriate referrals. The basic aspects of assessment and intervention are outlined below on our one-page guideline.
Other materials can be used to enhance the quality of the healthcare team's response to people who are known or suspected to be affected by IPV. Establishing institutional supports for an IPV screening and treatment program will enhance your ability to address IPV effectively.
Health care providers are not immune to IPV. Any of the resources and materials on this website can be used by health care providers who are affected by intimate partner violence. View an important exhibit about health care providers as survivors of IPV developed by Kaiser Permanente.
Provider Forms and Materials

Establishing an IPV Program in the Healthcare Setting
Mandatory Reporting
Safety Planning

These plans below are low-literacy, gender-neutral safety plans created by LEAP for use with any person who is being victimized or threatened by another person. There are color and black and white tri-fold brochures listed first and, then, there are simpler to copy double sided plans without photographs. There is a version for use in any location that has blank fields in the areas for resource phone numbers as well as a version for San Francisco County that has phone numbers inserted. Go to the Safety Plan page.


Exit Instructions for acute IPV When Patient is Leaving Clinic

Safety instructions to give to patients who are being victimized. Click on whichever language you would like to print. (The resource phone numbers are in English, translations pending.)
NOTE: You must change the phone numbers on page 2 of each of these exit instructions if you are not practicing in San Francisco.
english | spanish | chinese | tagalog | russian | serbian | arabic


Creating a Safe Space for Disclosure of IPV

Healthy relationships checklist: Patients (and others) may not know how they feel about their relationship(s) or may feel ambivalent about whether a particular relationship is healthy or not. Some patients (and others) may have been raised with such unhealthy relationship examples that they would benefit from education about health relationship behaviors. Placing these checklists in the waiting room and exam rooms can promote very fruitful discussions about how relationships affect our health and whether our relationships are healthy for us or not.
Brochures for Pregnant Patients
Download copies of these brochures on pregnancy and IPV for each of your pregnant patients. The brochure helps patients understand the effects of IPV on pregnant women and their children and also list resources for victims of IPV.
English color, black+white | Spanish | Tagalog | Russian | Chinese
Safety Cards
Place these wallet-sized cards in bathrooms, exam rooms, and waiting rooms. Cards are available for both victims/survivors and perpetrators in various languages. You can order preprinted cards directly from the Family Violence Prevention Fund or print cards conveniently from this site.
Posters

Posters are essential. Even if patients don't feel comfortable disclosing IPV on site, they can use hotline numbers on posters to get help. You can order posters from the Family Violence Prevention Fund. If you live in San Francisco, you can download this San Francisco-specific exam room door poster.
Documentation
Establishing an IPV Program in the Healthcare Setting

How do I make my clinic more supportive of IPV disclosure?

How do I train our providers and staff to inquire about IPV and assist patients suffering from IPV?

How do I convince my administration to support IPV programs?
See the following resources for guidance:

How do I assess our program's success and durability?


How do I make sure our providers don't "burn out" when addressing this issue?